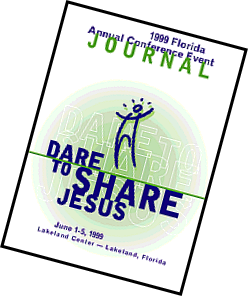 Welcome to the Florida Conference Journal online. For the first time ever this annual report of the conference is available in its entirety via the World Wide Web.
Each section of the Journal is included here so you can view and print all of them or just the ones you need. All of the sections are small enough that they can be saved to a floppy disk. To save the entire Journal to floppy disk will require three blank disks. To access a section choose from the list below. Just click on the section and it will automatically open in your browser window or be saved to your hard drive, depending on your browser version. If you are using an older version of Netscape or Internet Explorer you will have to save the file to your hard drive. Then, open the file from your hard drive. For more information on using Acrobat® Reader go to our tips page.
Included in the Journal are church addresses, a listing of all conference clergy, budget and audit reports, minutes from the Dare to Share Jesus 1999 Florida Annual Conference Event, statistics and more.
To view the sections, you need a copy of Adobe® Acrobat® Reader, which is available free at Adobe's web site.
For problems downloading or accessing the Journal files, please contact web site administrator. We will try to respond to your questions in 12 to 24 hours.